Stallion Market Research predicts the spending in the global Healthcare market research is expected to reach nearly 11 trillion USD by 2022. Healthcare contributes more than 10% of the GDP of most developed countries. The healthcare industry is among the fastest-growing and largest sectors worldwide. As per the Stallion Market Research predictions, the healthcare market is expected to increase nearly five times in size by 2026. Healthcare companies can collaborate across different verticals and industries to provide value-based healthcare solutions. A practical and resilient healthcare ecosystem requires a collaborative and multi-sector approach that identifies and deals with influential factors. Optimal deployment of health systems as a platform can leverage its potential to increase customer satisfaction, improve medication adherence, and help customers with their healthcare needs. Stallion Market Research can collaborate on quantitative and qualitative healthcare market reports based on market size, competitive landscape, geographic outreach, and the changing market dynamics.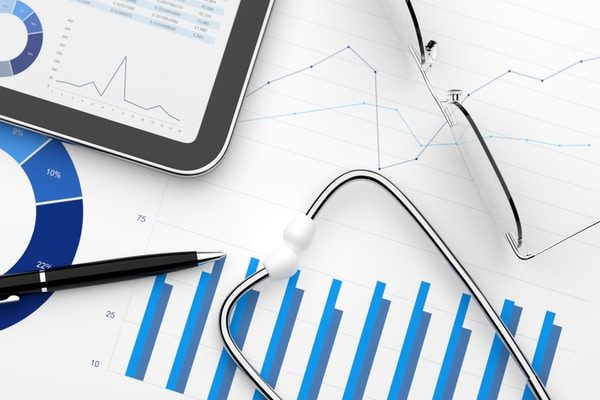 Stallion Market Research estimates the global Medical Equipment market size USD 400 billion by 2021. The trends which would influence the global market size would be the transition from paper charts to real-time monitoring systems, the use of electronic health records to gather patient health data, huge investments in R&D processes to offer unique platforms and solutions, and the implementation of predictive and prescriptive analytics in the hospitals due to Covid19 outbreak would be driving factors to influence healthcare industry growth globally. Stallion Market Research follows a triangulated method including top-down approach, bottom-up approach, and validation through industry experts for market size and a scenario-based strategy for niche or dynamic markets.
Stallion Market Research's recent forecasting suggests that the post-pandemic global healthcare market outlook after 2020 would be a hostile but revolutionary year for the global healthcare industry. As the world fights back against Covid19 pandemic, the healthcare industry and its stakeholders are being challenged to adapt and innovate quickly. The life science segment seems to be flourishing and the medical devices, medical imaging sectors are expected to take a heavy hit. Delayed clinical trials and drug launches have paved the way for virtual clinical trials. The need of the hour is to meet the demand and supply chain of testing kits, personal protective equipment, ventilators with the development of effective Covid19 vaccination. Amid the crisis, leading healthcare players are adopting risk-mitigation measures and prioritizing growth opportunities to recover from the pandemic and rebuild shareholder confidence. The Stallion Market Research analysis suggests that the global governments are re-allocating budgets to finance healthcare services and assessing the feasibility of immunity passports, mass vaccinations, and scaling up of contact tracing.
Stallion Market research derived the Pharmaceutical market research worldwide at USD 1.45 trillion in 2020 and is estimated to grow at a compound annual growth rate of around 7-8% between 2021 to 2030, after the recovery from pandemic. Faster economic growth, technological developments, and lifestyle changes drive development and advancements in the ever-changing healthcare sector and all its nuances. With the rise in life expectancy, the global demand for additional healthcare resources and service innovation is anticipated to increase. Stallion Market Research collects, analyzes, and collaborates data on observations, consumer behavior, healthcare industry market size, and trends to present healthcare market research reports to formulate strategic growth plans. 
The healthcare market can be segmented into healthcare services, pharmaceutical drugs, medical equipment, biologics, and veterinary healthcare. In the past, healthcare services have formed the largest segment of the global healthcare market. Attaining common objectives is a consistent demand among healthcare organizations and institutions. Healthcare analytics's driving factors can include reduction of healthcare expenses, more patient success rates, and revenue boost as shared objectives. Reduce performance gaps in healthcare delivery systems using healthcare market segmentation analysis. Stallion Market Research's analysts and advisors' team adopt industry-wide, quantitative, and qualitative customer insight and other trending market research methodologies to curate Healthcare market research reports.
Healthcare is an essential, dynamic, and opportunity-rich industry. Providers, buyers, employers, and patients form the healthcare industry. The medical market experiences massive competition between physicians and non-physicians such as psychologists, hospital systems, healthcare finance, and insurance providers. The competition in financing and delivery play a critical role in the healthcare industry. The healthcare industry's factors that need to be considered when forecasting demands include innovatively driving simultaneous improvements in health outcomes, affordability, quality, and accessibility. Health care organizations can tune their services to elevate consumer's personalized health experience, deployment of digital tools, improved medications, and health monitoring facilities. The healthcare market growth rate can increase by strengthening, collaborating, and expanding the traditional organizational network and nurturing new ideas to foster innovation.
Market share of competitors
Driven by demographic changes, a new paradigm of public and private healthcare sector collaborations can transform the global healthcare market. Reshape the health system with new market participants such as retail, telecommunications, technology, wellness, and fitness. Most healthcare systems and networks need to be integrated into different delivery systems to share information, report to agencies and provide health services.
Product portfolio analysis
Amidst the market dynamics, the government, healthcare providers, and other stakeholders need to pivot, adapt, and innovate. Many business decisions revolve around quantifying market opportunities for new products or services. Deploy technology evaluations of new products or services relative to unmet needs. Stallion Market Research can help you with competitor analysis and positioning for new and existing products.
Get a global perspective on the market developments to outperform competitors using an accurate healthcare market forecast. Identify the growth segments for investment and facilitate decision-making on the drivers and restraints on the market. The stakeholders and key healthcare decision makers can develop revenue generation strategies, benchmark business and revenue performances using accurate healthcare market research reports from Stallion Market Research.
Consumers are the key drivers of a healthcare market forecast. Their needs drive innovation in health services, tools, and products. Healthcare organizations worldwide are constantly trying to make healthcare affordable, accessible, qualitative, and efficient. Care model innovation delivers a more efficient physician and patient experience. A geographic location of healthcare services directly impacts the health outcomes within countries, by quickly addressing customer grievances. Stallion Market Research curates qualitative and quantitative research reports based on countries, regions, and global markets.
Global healthcare market size varies with consumer experience, care model innovation, digital transformation, and socio-economic shifts. Digital transformation, including cloud computing, AI, and virtual care delivery, plays a key role in improving healthcare experiences. Stallion Market Research global healthcare reports are consolidated for the U.S. Canada, Mexico, U.K., Germany, Spain, France, Italy, China, Japan, India, South Korea, Brazil, Argentina, South Africa, GCC, and other countries.
Stallion Market Research's regional reports capture differences in the healthcare regulations and their enforcement across countries. Regional healthcare market forecast is driven by digital innovations such as blockchain, cloud-based computing, virtual health, AI and robotics, digital reality, the Internet of Medical Things (IoMT). Such designs help reshape the future of regional healthcare by making its delivery more efficient and more accessible.
Country reports for healthcare include comprehensive resources that cover the latest health policy challenges and responses in every country. Each aspect needs to be balanced in-depth and brevity to make the analysis accessible and useful to a broad audience. Although the reports are made according to a standard template and methodology, each profile's focus has been adapted to country specificities to maximize each analysis's relevance. Stallion Market Research pays attention to country-specific regulations that help to forecast the healthcare industry. Each country report provides a perspective of the healthcare status in the country, the condition of healthcare institutions, and an analysis of each health system's effectiveness, accessibility, and resilience.
Inadequate, inaccessible, and unaffordable healthcare systems are common challenges of the industry stakeholders. Customers are the driving and accelerating pace of change in the healthcare market. Their expectations drive industry stakeholders to elevate the holistic healthcare market experience. Global health care expenditures continue to escalate, and its challenges can impact the healthcare industry's developments. Stallion Market Research suggests that Health care stakeholders need to invest in value-based care, innovative care delivery models, advanced digital technologies, data interoperability, and alternative employment models to prepare for uncertainties and build a smart health ecosystem.
Healthcare Trends and Forecasts
A healthcare industry market research captures sectoral and regional trends to predict for the future. The need of the hour after Covid19 pandemic is that every aspect of the healthcare ecosystem, including the government, enterprises, and individuals, is involved in improving the healthcare industry through quick shiftments and adaptations of the new normal life. With technology innovations and agile and forward-thinking, the health economies have an opportunity to revolutionize the way care is delivered and transform their societies. The popular digital health technology solutions include artificial intelligence (AI), the Internet of Medical Things (IoMT), Big Data analytics, and robotics. Cloud-based PaaS/SaaS platforms are integral to healthcare data monetization models. Transitioning into these technologies will drive global growth opportunities to increase the healthcare industry size. Personalize insights within healthcare industry market size using Stallion Market Research qualitative and quantitative healthcare market research reports.