The chemicals industry is among the largest manufacturing industries in the U.S., serving from domestic markets and expanding to global markets. Most basic commodity chemicals and specialty chemical companies allocate nearly 1% to 3% of their annual budgets for R&D. The key sustainability goal for this industry, governments, and environmentalists are to expand and improve the management of commercial chemicals. As per Stallion Market Research's predictions, digitalization is a leading innovation for most industries, and it will have an enormous impact on the chemicals industry. Digital technology will help the global chemical market increase profitability by optimizing operations and improving supply chain management. Manufacturers can scale up business operations to gain end-to-end financial stability with digitally integrated intelligent chemical plants. The chemicals industry directly impacts more than 95% of all manufactured products. Stallion Market Research's, chemical market reports provides a collection of market trends, analysis, opportunities, and projections to streamline operations, marketing, and revenue generation strategies.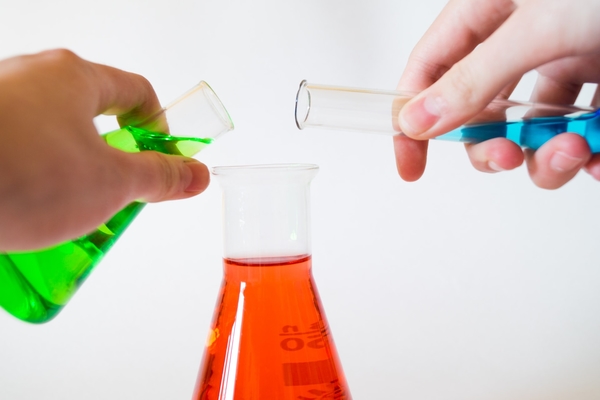 The global chemical market is an essential contributor to the worldwide economy. Stallion Market Research predicts that from 2021 to 2024, the chemicals industry is expected to grow across different segments, with overall global chemical industry size growth expected to be 1.8 percent in 2024. The chemical products market is an essential influence across different manufacturing products such as safe water supply, food, shelter, clothing, and almost every other aspect of modern life. The chemicals industry's current state is positively impacted by the COVID-19 pandemic as there is a significant decline in demand. The common cyclical challenges of the global chemical market included overcapacity, pricing pressures, and trade uncertainty. Post-pandemic, there is a structural disruption in operational efficiency, asset optimization, and cost management. Stallion Market Research has observed that the global chemical industry market size is highly influenced by the changes in economic, social, environmental, and political conditions that play a crucial role in shaping its future.
To continue the global chemical industry growth, industry, governments, and environmental and health groups are moving towards minimizing the significant adverse effects on human health and the environment. Stallion Market Research forecasts that necessary chemicals are expected to see the most extensive global chemical industry growth at 2.1% for 2024. During the COVID-19 pandemic, the domestic chemical products market pivoted towards products and materials used to combat the outbreak. To continue its growth in the global chemical market, companies need to implement targeted, strategic initiatives including market research solutions, R&D, and technology. The chemical industry analysis and forecast by Stallion Market Research includes investing in innovation, emerging technologies, and adopting new business models to sustain and generate growth. Stallion Market Research has reported that chemicals industry's primary focus should be understanding customer behavior and addressing uncertainties by revisiting product portfolios and planning robust business strategies.
Though complex, the global chemical market is an integral part of the global economy and supply chain network. Chemicals production includes converting raw materials such as fossil fuels, water, minerals, metals, and others into products that are used in daily life. While the global specialty chemicals market was estimated at USD 800 billion in 2019, it is estimated to grow to USD 940 billion by 2026. From 2020 to 2027, the global chemical market is expected to grow at a compound annual growth rate (CAGR) of 5%. The prominent optimizing operational strategies include sustainable, efficient product development and adoption of the latest technologies. Owing to the changing end-user perceptions and favoring regulatory mandates, the R&D and market research solutions are critical to global chemical industry growth. Enhance market value by pacing up the industry dynamics and understand the trends in demand growth with Stallion Market Research's
chemicals market research reports
.
Stallion Market Research offers the best chemical industry market research and provides deep insights into the global chemical market and its segments within the Chemicals Industry. The chemical industry and market research's primary segments include the commodity chemicals market, specialty chemicals market, and industrial gases market. The research experts at Stallion Market Research report that the commodity chemicals market drives a positive global chemical industry growth with its strong sulfuric acid market. Compared to commodity chemicals, specialty chemicals' need is more beneficial for manufacturers as countries like China, Japan, South Korea, and others offer high growth potential with inexpensive labor and favorable environmental conditions. Industrial gases are a feedstock in manufacturing priority compounds. They are increasingly used in processing energy, oil and gas, petrochemicals, healthcare, and other industries to improve product quality as suggested by Stallion Market Research.
A notable shift in the global chemical market's competitive landscape requires a focus on resource monetization and economic development instead of the classic shareholder value-creating goals. There is an accelerating shift in the growth of global chemical demand from developed countries to developing countries. Building a global market presence will require established international operations and management skills to run business operations effectively. Building chemical plants require a considerable investment despite the uncertainty of future market demands. Estimate profitability and revenue generation with sales forecasts for your products or services with chemical market research from Stallion Market Research. Stallion Market Research suggests that you capture a more extensive market sector with effective business strategies using Chemical Market Research report.
Market share of competitors
The global chemical market has entered a new phase of evolution as the oil-producing companies and high-growth developing markets create a place as industry leaders. Stallion Market Research can provide you access to competitors' operations, product integration, chemicals produced, and strategic direction. Access insights on market share, segmentation, size, and business scope in global markets. Enhance market value by pacing up the industry dynamics and understand the trends in demand growth using the chemical industry market research from Stallion Market Research.
Product portfolio analysis
Explore new business opportunities or expand your business outreach with a comprehensive analysis of the global chemical products market. A primary factor from a product or market's competitive perspective is that companies have their leadership in the direct business line. For example, focused specialty chemical companies may include a range of businesses, including adhesives, plastics, catalysts, gases, coatings, and other related products. Get access to the analysis of product portfolio by Stallion Market Research to get a comprehensive view of the industry.
Uncertainties of the COVID-19 pandemic and the global economic, geopolitical tensions have affected the chemical industry's trade and global economic expansion cycle. Endowed with a global chemical products market, many companies have used innovation to find profitable growth areas. With emerging trends such as the lithium chemicals used in electric vehicle batteries to essentials for inner parts of smartphones, the industry's processes have intellectually upgraded for revenue generation. Stallion Market Research can help you with evidence-based revenue generating strategies within the global Chemical Market Research report.
Most basic chemical production is concentrated along the Gulf Coast, where petroleum and natural gas are available in refineries. Production of other products, such as plastic, pharmaceuticals, fertilizers, and more, is widely spread worldwide. The United States is among the top global chemical producers, accounting for nearly one-fifth of global production. Stallion Market Research has observed that on a value-added basis, chemical exports are the second largest manufacturing sector of the U.S. economy.
Global chemical industry market size varies with customer behavior, digital innovation, socio-economic conditions, and market demands. The significant demand for rechargeable, miniaturized, and sustainable electronic components have fostered enhanced market performance with minimized maintenance. Stallion Market Research's global chemical industry research reports are curated for the U.S., China, Japan, India, South Korea, Brazil, Argentina, South Africa, GCC, and other industry-leading countries.
Regionally, Asia holds the current largest position in the global chemical market. It accounts for more than 50% of the global chemical industry size. The diversification and industrialization in Asia Pacific economies such as Singapore, Malaysia, Thailand, and India are expected to generate profit-making opportunities in the global market for specialty chemicals. Shorten the time to market your products or services with well-analyzed chemical industry market research from Stallion Market Research.
The Chemicals industry's prominent operational strategies include positioning in high-growth markets such as China, profitable market alliances, intensive research for sustainable, efficient products, and adopting the latest technologies. Launch new business solutions or explore further market opportunities with the professionally collaborated industry and market research from Stallion Market. Assess market dynamics and estimate accurate sales forecasts for new products or services with our marketing research report. Understand the profit potential of new or existing markets for powerful, data-driven marketing strategies and market outreach with Stallion Market Research.
Making evidence-based decisions and strategic choices can help chemical companies strengthen their business from the pandemic-driven economic crisis. Identifying underperforming assets and earning from different operating environments can help build a profitable product portfolio that can withstand global macroeconomic changes and trends. Keep a close eye on the marketplace changes and trends with Stallion Market Research's chemical industry and market research. Personalize solutions based on customer expectations with an exhaustive report on market opportunities. Determine your target audience to build effective marketing strategies with our market research solutions. Focus on new growth opportunities and derive value from current resources by identifying customer preferences and the end-market environment using chemical industry market reports from Stallion Market Research.
Chemicals Trends and Forecasts
Explore new business opportunities or expand your business outreach with a comprehensive analysis of the chemicals industry. The increasing competitive pressure within and outside the chemical industry market can make it challenging to stay relevant and continue business and revenue expansion. With a detailed study and statistical analysis to explore the chemicals industry, Stallion Market Research provides a holistic view of the market. The current market focus shifts towards new value streams and technologies that can support industry recovery and global chemical market growth. In addition to cost optimization and capital management, chemical companies must prioritize the growing end markets, such as healthcare and electronics, to supply materials. Embrace business intelligence to channel your products and services effectively with Stallion Market Research.