Consumer Goods, F&B, and Entertainment
Stallion Market Research predicts that revenue for the global consumer goods industry is expected to show an annual growth rate (CAGR) between 2021 and 2025 of 8%. By 2025, it will grow to USD 380 Billion. The consumer goods industry's growth over the past quarter of the century has been tremendous. CPG companies have launched innovative products to satiate rising human needs. It has expanded into the burgeoning consumer markets across developing nations. Making growth profitable, they have enthusiastically built global consumer goods market size. Both the global consumer goods industry and the F&B industry have been relentless about new-product innovation. Over the approaching decade, the upheavals in global consumer, retail, and supply markets pose a great threat on existing business models and marketing approaches—and promise enormous rewards for those best able to anticipate new opportunities. Stallion Market Research has developed an analytical methodology to help executives provide fact-based answers to persisting and impending consumer goods, F&B, and entertainment sectors. Consumer product companies handle rapidly evolving technologies, consumer demographic shifts, changing consumer preferences, and economic uncertainty.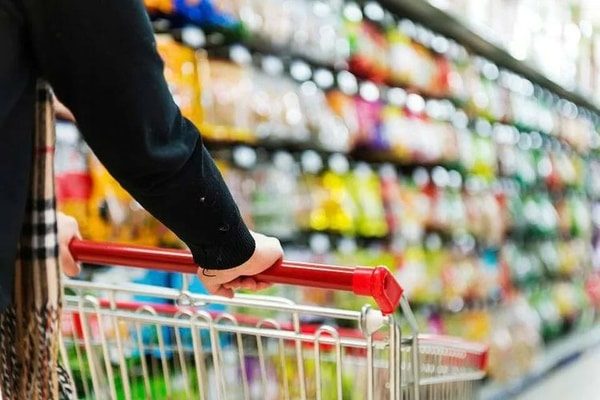 Stallion Market Research's prediction says that e-commerce is soon to account for 17 percent of total retail sales. Rising online sales and labor costs, put incredible pressure on store economics. Stallion Market Research suggests that currently available, at-scale technology could help automate more than 55% of tasks in a classic brick and mortar grocery store as it handles the demand forecasting for consumer goods.
Stallion Market Research's surveys reveal that Asia Pacific was the largest region in the global consumer goods industry and F&B industry in 2019, accounting for over 40% of the market. Followed by North America -the second largest region accounting for around 25% of the global F&B industry. Economic slowdown across countries over these months has been due to the COVID-19 outbreak and its measures. From 2021, the market is then expected to recover and grow at a CAGR of 7% and reach USD 7.5 trillion in 2023.
According to Stallion Market Research a consumer goods market research company, 6 out of 10 global consumers look for food and beverages that support immune health. Trends in the F&B industry have a lot to do with the impact of the pandemic. Thus, food that has immunity-boosting properties is one way they feel they can make a difference. Larger CPG companies notice consumers' ingredient choices and highlight the benefits of their products. The food and beverage manufacturers and distributors have shown remarkable flexibility in 2020. To overcome supply chain issues, businesses create omnichannel solutions and reevaluated processes to avoid lay-offs and cut costs. Time-consuming business decisions that once took several months were often made in days to meet customer demand. Regardless, the companies which could quickly adapt had strong results.
The global
consumer goods
industry can be segmented into geographic, demographic,  and business sectors. Such factors have always driven
consumer goods
industry trends and trends in the F&B industry. Attaining common objectives is a consistent demand among consumer goods and the F&B industry. Stallion Market Research's analysts and advisors' team adopt industry-wide, quantitative, and qualitative customer insight and other trending market research methodologies to gather F&B, entertainment, and consumer goods market size ideas.
The consumer goods and FMCG market continuously adapt to evolving demand forecasting for consumer goods. Digital innovation, the pandemic, and an increased focus on sustainable and healthy habits have big influences on the consumer goods industry trends. Digitalization has put the customer in the driver's seat and enables endless comparison and scrutinizing of products on the spot. Optimizing marketing strategies and brand awareness helps to maintain customer loyalty for consumer goods businesses. Stallion Market Research offers an accurate portrayal of the market in real-time allowing vital business decisions to be made instantly.
Market share of competitors
Driven by demographic changes, a new paradigm of consumer goods, F&B, and entertainment sector collaborations can transform the global consumer goods industry. For F&B forecasting, too, new market participants are penetrating the market with unique business value propositions. Stallion Market Research's curated market reports on consumer goods and the F&B market aims to provide a fair share of ideas about key competitors and burgeoning businesses. These reports on the current market scenario streamline business goals and near-future plans.
Product portfolio analysis
Amidst the market dynamics, consumer goods providers, key F&B industry businesses, and other stakeholders need to pivot, adapt, and innovate. Many business decisions revolve around quantifying market opportunities for new products or services. Deploy technology evaluations of new products or services relative to unmet needs. Stallion Market Research can help you with competitor analysis and positioning for new and existing products. With in-depth knowledge gained through innovative tools and methods, access F&B forecasting and consumer goods industry trends.
Get a global perspective on the market developments to outperform competitors using accurate consumer goods market trends. Identify the growth segments for investment and facilitate decision-making on the drivers and restraints on the market. The stakeholders and critical consumer goods, F&B, and entertainment industry decision-makers can develop revenue generation strategies, benchmark business and revenue performances using accurate F&B forecasting from Stallion Market Research.
Consumers are the key drivers of a global consumer goods industry and F&B industry. Customer needs and requirements drive innovation in consumer goods, F&B, as well as in entertainment sectors. Key participants from these sectors worldwide are continually trying to make state-of-the-art and good, qualitative goods and products. Advanced models and processes drive the manufacture of such products and goods much more manageable. Accessibility of consumer goods also directly impacts countries' acceptance rates by quickly understanding what customers want there. Stallion Market Research's consumer goods market research curates qualitative and quantitative research reports based on countries, regions, and global markets.
Consumers changed their behavior and preferences, so companies are changing their go-to-market strategies and capabilities in response. Industry players are recalibrating how they segment consumers, prioritize channels, establish product portfolios, position their brands, and deploy service models. Trends in the F&B industry will be driven much by what customers want and revolves around their preferences.
Stallion Market Research's regional reports capture differences in the consumer goods markets across countries. Regional reports are driven by demand forecasting for consumer goods through digital innovations that make the supply chain much more feasible and fast. Such designs help reshape regional consumer goods and F&B industries' future by making its product deliveries more efficient and more accessible. 
Country reports for consumer goods and F&B include comprehensive resources that cover customer demands in every country. Each aspect of customer requirement is given utmost attention. Although the reports are made according to a standard template and methodology, each profile's focus has been adapted to country specificities to maximize each analysis's relevance. Stallion Market Research pays attention to country-specific regulations for F&B forecasting.
As the world recovered from economic downfall a decade ago, the retail market of fast-moving consumer goods (FMCG) has witnessed significant growth due to increasing per capita income across each geography. Government regulations over packaging have forced manufacturers to provide quality packaging and ensure clean and persistent labels which represent all required contents of product and packaging materials. Due to the demand and supply gap of FMCG products, the retailers have adopted a business strategy of expansion. Retail stores have increased significantly over the last five years. Multinational companies like Walmart entered into emerging economies such as China and India are expected to drive the growth of FMCG  market in high potential markets. The increase in disposable incomes and the rapidly expanding retail sector are two key drivers of the global FMCG labels market. However, private labels are a potential threat for FMCG labels, and it is expected to restrain the growth of the FMCG labels market. Additionally, the sustainability of the FMCG labels market is highly dependent on innovation and product development. Stallion Market Research emphasizes the importance of providing relevant information that drives the consumer goods and F&B markets.